Hyundai Motor has opened its seventh Hyundai Dream Center in Nairobi, Kenya, to provide automotive training to the poorest youth. These are called Dream Centers that also help companies to recruit the best talent and insert them into the labor market, as well as improve the quality of the companies' services. 
The automotive giant, Hyundai Motor Company has recently opened a Hyundai Dream Center in Kenya, with the support of the government and organizations to contribute to the economic and social development of the country. These are automotive training centers. This is the seventh center that Hyundai Motor has established in Kenya, having also founded centers in other countries such as Indonesia, Ghana, Vietnam, Cambodia, Philippines and Latin America in Peru.
The Hyundai Dream Center in Kenya is specially created to help young people from the poorest sectors of the country to train them in the automotive field, which also offers them employment opportunities and prepares them for the job market. The students with the best grades have the opportunity to be hired in a Hyundai Motor factory, for some it could be like a dream for them and their families.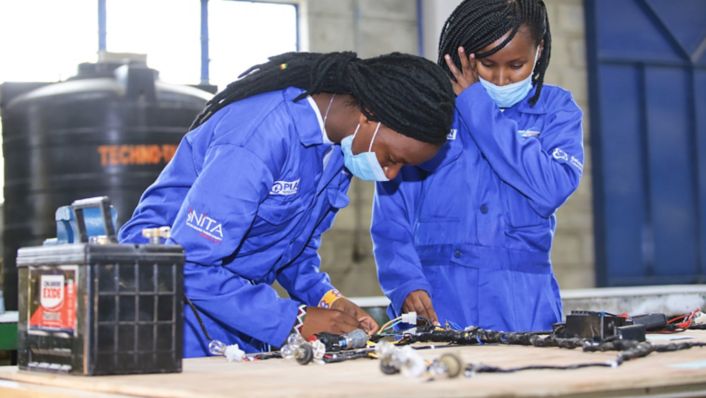 Photo Courtesy Hyundai Kenya
Hyundai Dream Centers exist around the world as part of the Korea Plan, which is also supported by non-governmental organizations. This is an opportunity for young people who wish to take up an automotive career, gain knowledge and have a job opportunity. Hyundai Motor through its Dream Centers in Kenya is committed to contributing to the local economy. The center in Kenya expects to welcome about 120 young people from the most underserved regions, who are offered scholarships and job opportunities at the end of the three-year training. The center provides them with study materials, equipment and tools to learn by doing. 
The company also offers opportunities for women and according to the Dream Center, at least 30% of the students are women, which can be seen as a positive initiative by the company to promote gender equality. Similarly, there are openings for young adults who wish to improve their skills or simply seek a job opportunity. 
This is the 7th center that Hyundai opens in Kenya, and it is expected to continue opening others in poor communities to stimulate the economic development of Kenya and the world, through quality education and with Hyundai's values these people will have more opportunities to get a job inside or outside Kenya.